CYCLONE RELIEF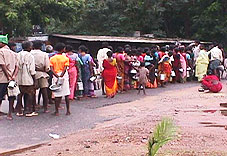 The main focus in the rural development programs is to involve the local populace actively and to connect them with the activities undertaken by The Company with the aim and objective to achieve all round development of farming communities.
SMT. IRMGARD VELAGAPUDI, MANAGING DIRECTOR DISTRIBUTING FOOD TO PEOPLE IN CYCLONE AFFECTED AREA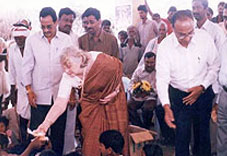 The Company had played vital role in contributing to the rural development in Krishna District. Several social activities are being organized on a regular basis, which includes Green plantation programs, veterinary camps, Eye and Dental Camps, Cyclone reliefs for the benefit of rural people. The Company had conducted several awareness programs like World environment day, national pulse polio program, hepatitis-B vaccination programs, farmers trip to various places, health awareness programs such as HIV/AIDS, yoga class, cultural activities etc., to sensitize the people and involve them to spread the message loud and clear to percolate down to the masses.