Education
Way back in the year 1969 an elementary school was established in Telugu medium in memory of founder Shri. Velagapudi Ramakrishna, ICS of the Company in the name and style of "VELAGAPUDI RAMAKRISHNA MEMORIAL SCHOOL" in its employes colony at Lakshman nagar with two teachers in a small room. The objective in establishing the school was to create education facility for its employees children and also to the children of surrounding villages.
In the year 1974-75 the school was upgraded into upper primary school. It was decided in 1976-77 academic year, to develop into a full-fledged high school. The school was bifurcated into elementary and high school, and also recognized by the Government of Andhra Pradesh in 1988.
A Meritorious student was awarded financial help.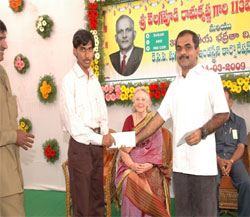 The school is on a sprawling complex with 34 rooms, an auditorium, vocational complex and other infrastructure including 5 acres of play ground surrounded by lush green trees. The school is also having a well stocked library, museum, well equipped science laboratory. The school is consistently maintaining high percentage for the past several years. Our school is an aided school with a staff of 34, both teaching and non teaching staff.
As part of corporate social responsibility, the Company continue to run the educational institutions, mostly catering to the children from below poverty line families. This school had achieved many accolades in education, cultural and also sports and games at District, State and National levels. The alumni of the school comprises array of distinguished persons in all walks of life, who have been successful in their pursuits and professions.
Meditation Classes are in progress At V.R.K.M High School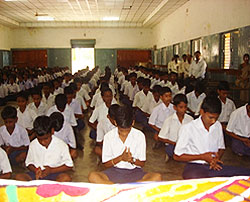 In terms of child sponsorship programs in India, Help A Child is largely unique. Most programs operating here focus upon the young child, supporting them only until the age of 16 or 18. While these programs are aimed at alleviating poverty, something extra is needed in order to break the poverty cycle for the child and their family. Help A Child firmly believes that further education is the most powerful way to lift families out of poverty by enabling them to stand on their own feet by using their own knowledge and talents. Since Help A Child's inception more than 770 students have been sponsored for their education. Godavari Biorefineries remains Help A Child's largest sponsor and is committed to improving the futures of these talented young students.